Cut The Cancer™
By Tim Spies
Five years ago, Aikido Resolutions Foundation executive director Tim Spies met Liz, a 15-year breast cancer survivor. Liz was a young woman with small children when she was diagnosed and so Spies knew that there were difficult times in her family. He asked her to describe how she felt. Fear, loneliness, desperation, and disconnection were some of the words she used.

Spies then asked her how she got past this emotionally, and where her strength came from. He was curious because, beyond the physical treatment, surgeries, and familial support there survivors face an incredible internal conflict that is most often based in fear. Liz's response was inspirational.

"Breathe when you feel the fear creep in and try not to let it control you," she said. "Surround yourself with people that believe in you to help alleviate the loneliness. Make yourself physically stronger to improve your self-confidence. Relax and meditate so that the worry will dissipate."

Liz's words sounded all too familiar to Spies – it was and is Aikido (the way of harmonizing energy). That night "Cut The Cancer" was born.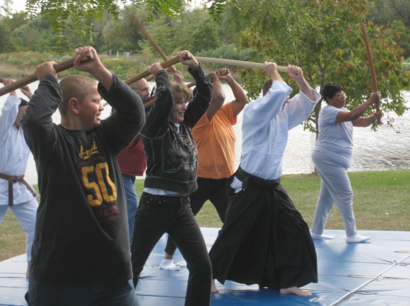 "Cut The Cancer" gives students the physical and mental skills necessary to utilize the tenets of budo (martial way) in their fight with and recovery from cancer. Eastern philosophy and the study of martial arts have been proven to have huge positive effects because they teach us to strengthen the body and sharpen the mind.

But, to Spies, there is more to it than that. The study of Aikido teaches us to get out of our comfort zone, and immerse ourselves within the areas of our lives that are difficult. Facing our challenges head-on with a calm mind and relaxed body enables us to move past those issues with strength and fortitude no matter how difficult they may seem.

Aikido Association of America founder Fumio Toyoda Shihan was once asked why should we study a martial art. His response is the basis for the "Cut The Cancer" curriculum:

"Why study martial arts? A true martial artist does not train to only defeat others. He trains to defeat the enemies inside himself, the enemies we all have. He trains to forge his life into something beautiful, something helpful to the world. He wishes not to draw the sword, but to put it away once and for all.

He can do this because, through his training, peace is not just a word or and idea to him. Strength, bravery, compassion: these are not just words to him. They are what he has embodied. They are what he has become."

"Cut The Cancer" instructors teach students to be compassionate toward themselves, to be brave to face what needs to be faced, and to have the strength to do it. There are two components of nearly all martial arts, the physical side and the philosophical/spiritual side.

The philosophical side of aikido, restoring harmony, is ideal in this situation because learning to not be controlled by fear is the most empowering aspect of the program. The falls, pins, and joint locks of traditional aikido, however, are not suitable for the cancer patient so Spies and his team have built a curriculum based primarily on the wooden swoed (bokken).

At the beginning of the first class, Spies asks students to describe what they feel. He usually hears, "I'm a bit nervous," "I'm tense," or "I feel scared." Then, he gives each of them a bokken. Spies shows them how to hold it, tells them to pick out a spot on the wall in front of them, and asks again how they feel.

The responses immediately change to, "I feel strong," or "I feel powerful." One woman blurted out, "I'm a freakin' warrior baby!"

"Cut the Cancer" classes include relaxation and breathing techniques, the physical exercise of learning to cut with the sword in both individual and paired exercises, and Zen meditation. Students can earn rank in Aiki Gan Agatsu, or "self victory over cancer through aikido."

"Cut the Cancer" has been endorsed by the Aikido Association of America and is being taught at Gilda's Clubs in Madison, WI; Chicago, Il; Grand Rapids, MI; New York City, NY; Linwood, NJ and at our headquarters at Ryoshinkan Dojo in Arlington Heights, IL.

Tim Spies is the chief instructor at Ryoshinkan Aikido Dojo in Arlington Hts, Il. and at Ishinkan Dojo in Libertyville, Il. He can be reached at tspies@aikidoresolutions.com
Click here to return to the home page.